In the expat community there is a lot of talk about the "expat bubble." This usually refers to the insulated way that some expats live in a foreign country.
It is particularly targeted to career expats, who may have had many different postings, usually for 2 to 3 years at a time. Living in the "bubble" becomes an adaptive mechanism to handle the stress of change. They may associate and socialize almost exclusively with other foreigners, sometimes restricted to people from their own country and workplace.
Career expats who are living in developing countries are particularly ripe for the "bubble." They are paid western salaries, sometimes with other benefits added, like a housing allowance, enabling them to live a luxurious lifestyle, another attribute of the expat bubble.
So if you're a career expat or family member enjoying your lifestyle abroad, but feeling like you're missing out on something, here are some tips for poking the bubble:
Poking the Expat Bubble, Tip # 1: Volunteer for a local NGO.
This is a great way to kill a couple of birds with one stone (a horrible expression!) You'll meet local members of the community who are committed to affecting change. You will also be able to contribute your time and energy in a meaningful way.
If you're living in a country where English is not the mother tongue, you can volunteer by working in a school, reading to children, or teaching English to adults.
In most large international cities, there are a variety of expat groups who may coordinate volunteer opportunities. Go to a meeting or a coffee morning to get information about what's available. You might also meet other expats to connect with. Although this will not take you out of the bubble, it can be a fun way to make new friends.
Poking the Expat Bubble, Tip # 2: Take a language course.
Even if you're living a country where most people speak English, you can try learning the local language. If you just learn a few words or expressions, this can go a long way in helping you begin to talk to the locals. They'll really appreciate your efforts. You'll be surprised by how expansive this can make you feel.
You can also find locals who are happy to trade conversation lessons with you, in both languages.
Poking the Expat Bubble, Tip # 3: Find one small way to get out of your comfort zone.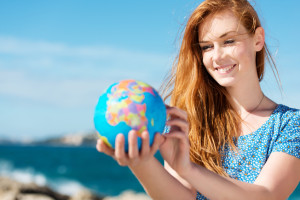 I suggest you try something really small to begin with. Try going to a local market, instead of one that expats frequent, even if it means going out of your way. If you've learned a few words for food items and numbers, you can try out your language skill with local merchants.
If you have children, try finding an activity with local children, or at a local school where they can be involved as well. It's important for children to learn that people in different cultures live in different ways. It's no wonder that a large percentage of expat children grow up to be Peace Corps volunteers or diplomats with international lifestyles.
I'm not suggesting that you leave all the comforts of the expat bubble. It's not an all or nothing thing. You can enjoy your lifestyle and still make forays into the local culture. I promise that it will enrich your experience of living abroad.
Dhyan Summers is a licensed psychotherapist and director of Expat Counseling and Coaching Services. Visit www.expatcounselingandcoaching.com to book a free 30 minute counseling or coaching session.