Anyone who has lived abroad for any length of time, particularly if it involves a career move, knows it can be stressful, and that the stress can put an added burden on your marriage or significant relationship.
So what can you do to actually enhance your relationship if you're posted abroad? Here are some tips to keep your marriage on track:
Expat Relationships, Tip #1: Build a support network as soon as possible.
Widening your network is especially important for the non-working spouse, when moving to a new country. The working partner usually has colleagues, which provides some social contact.
If you're the stay-at-home partner, you may feel isolated at first. When your spouse comes home, the tendency can be to blurt out everything that's wrong with living in the host country.
This is why it's important to begin to develop a support network as quickly as possible. If there are other people with whom you can share frustrations and concerns, it will take some of the stress off of your marriage.
Expat Relationships, Tip # 2: Tell your partner one thing that you appreciate about him or her, or are grateful for, each day.
This may sound trite and corny, but I promise it really works. Talking about gratitude softens you. It's hard to be grumpy when you're appreciating your partner. Even if you're feeling angry with your spouse, try talking about your anger, without judgment, using "I" statements, rather then "you" statements, which are blaming.
At the end, always go back to gratitude. Make it a practice not to go to sleep without each of you telling the other one thing, no matter how small, that you're grateful for about the other.
Expat Relationships, Tip # 3: Find one new, fun thing to do each week.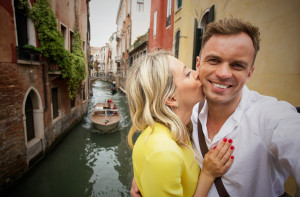 You're in a new country and there are plenty of things to do and see, either as a couple, or if you have children, as a family. Find one place to visit that feels exciting or interesting each week. Sharing new experiences together is great for bonding.
Follow these tips and you will go a long way toward enhancing your relationship, and can truly enrich your time abroad.
Dhyan Summers is a licensed psychotherapist and the Director of Expat Counseling and Coaching Services. If you'd like a free 30-minute consultation, visit www.expatcounselingandcoaching.com and hit Book a Free Session.